Hello to all of my beautiful blog readers! Thank you for stopping by the Purest Light Photography | Las Vegas Newborn Photographer blog today! I always have photographers ask me "What does your whole set up look like?" Well, today is your lucky day because I am going to share a few behind the scenes images of what my studio set up looks like for a newborn session!
As you can tell by my website and blog, I specialize in newborn photography. They are just so perfect and squishy and I absolutely adore capturing all of their perfect little features. I start every newborn session with "Beanbag Shots". Well, I used to use a bean bag for these shots until my fellow photographer Melissa Jenkins of June Bug Photography opened my eyes to the dog be poser. Yes, you heard me right…DOG BED. It is an actual dog bed you can purchase on Amazon and it works perfectly for these posed shots! You can find Melissa's full tutorial on how to make the dog bed newborn poser HERE. She gives wonderful step by step directions on how to make your own.
As you can see this is my poser set up. It is placed right on top of my wood to save space and once I am done shooting on the poser I slide it off to the side and out of the way.  In my studio space I shoot with an Alien Bee 400 lighting system and a white 86″ PLM with a white diffusion cover. I always have my handy space heater running to keep baby nice and warm and the Baby Shusher is a must have for any newborn session!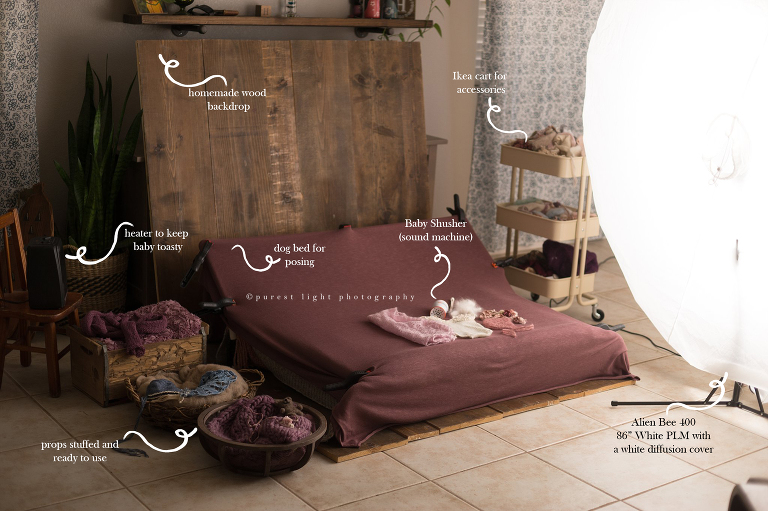 Before every session I set out everything that I will need during my session, I like to be prepared. I lay out hats, bonnets, headbands and wraps that coordinate with the drops that I am using. Some of my absolute favorite vendors are Emmy Blue Handmade and Beautiful Ewe. They always make the most amazing quality props and their customer service is top notch!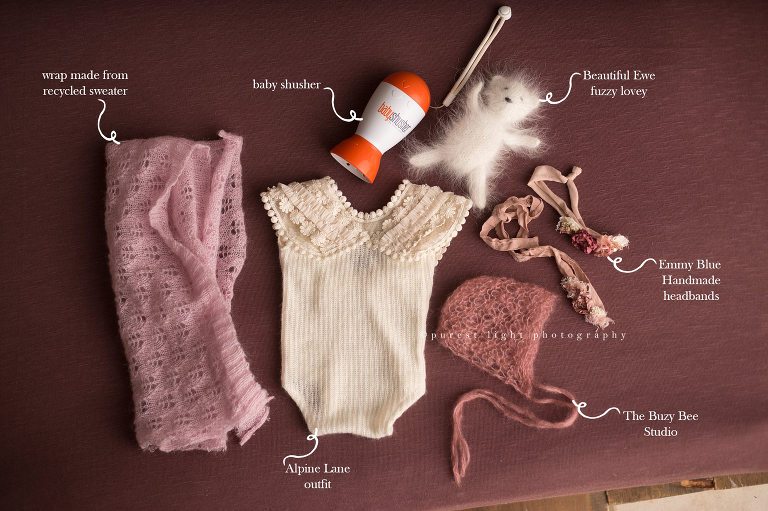 A must have for any newborn session is clips! They keep the fabric nice and tight so you don't have to worry about any wrinkles. These I purchased at Wal-Mart but you can find them HERE on Amazon.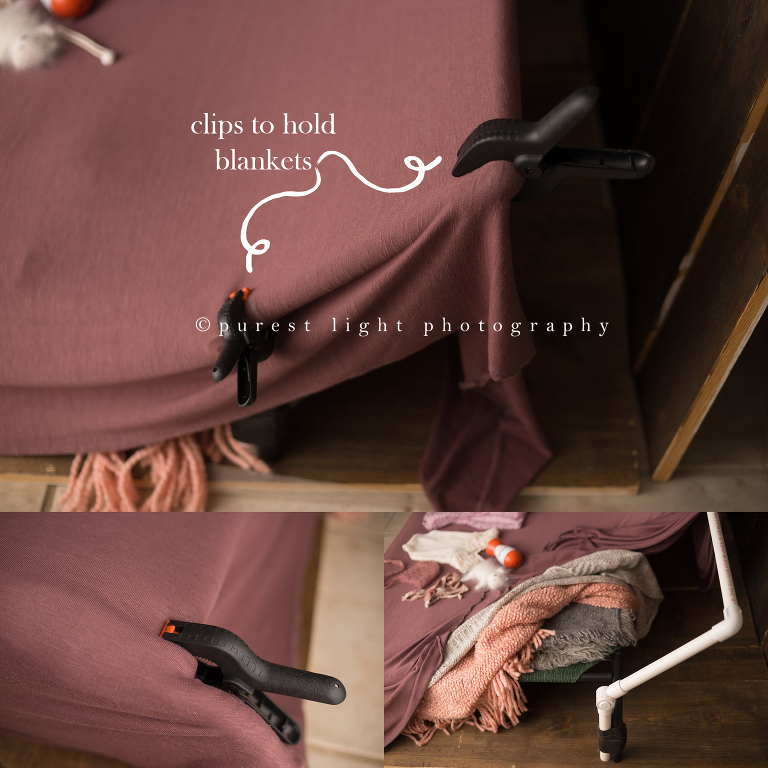 A peek underneath my posing fabric! I use the folded flokati for support and then several blankets to give a nice smooth look. When I am finished with photographing the newborn on the poser I move to prop shots. I always have every single props set up and ready to go for me to use. This really helps speed up the process and help provide consistent images.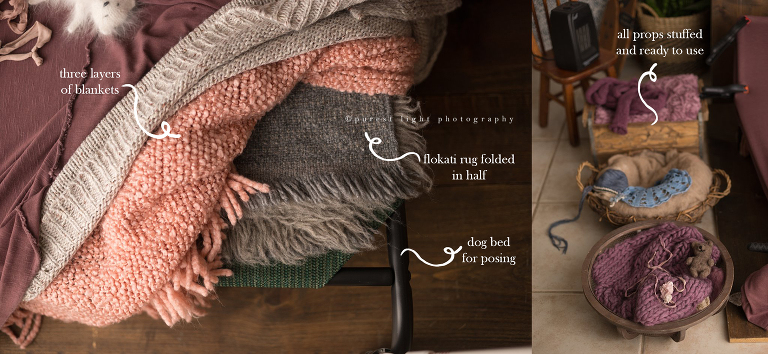 And of course I need to share a shot of a gorgeous Rainbow Baby on the set up pictured! Isn't she beautiful!?

Behind the Scenes | Purest Light Photography | Las Vegas Newborn Photography
I hope this is helpful for those who are just starting their business or who are looking for new suggestions. Thank you for stopping by the Purest Light Photography | Las Vegas Newborn Photography blog for a behind the scenes look!
Purest Light Photography is currently booking 2018 newborn, maternity, milestone and family sessions. To book your session contact Susan HERE!